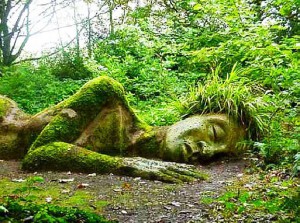 You are the earth the earth is you!
There isn't an earth and humans. There is just one whole earth with an immense variety of parts. This reality was designed to be an interactive, interconnected, interdependent relationship between and among Man, Nature, and Wildlife within the seasons and cycles of this planet. A symbiotic synergistic collaboration for the benefit each and every Being!
When we act as if the Earth is a 'thing' we are creating a devastating separation not merely between us and the rest of the participants, but within ourselves. We have disconnected from our bodies treating them as Newtonian machines that require some maintenance and as our antagonist when something about it causes discomfort or illness or doesn't respond to our demands. Discounting the fact that the dysfunction is a result of choices we have made and disregarding the many hints and signals we receive internally to address an issue (emotionally and/or spiritually) before it reaches the point of damage.
Similarly we use and abuse the Earth bringing it to a point of crisis with detachment and lack of sensitivity to the 'Beingness' of all things and their vital physical and spiritual purpose as integral members of this great venture. In our placement of man's superiority and the intellect above feeling and unity, we have closed avenues critical to our physical survival and moreover to the evolution of our collective Soul.
For as Sir Richard Attenborough reminds us here we are the cause and the solution https://www.independent.co.uk/environment/climate-change/david-attenborough-life-planet-new-documentary-bbc-climate-crisis-coronavirus-a9472946.html
For the whole point of evolution is to come to an awareness of the relationship between and among everything that exists. That all life is precious and significant. That all is made out of the same basic building blocks and underneath and behind all there is a framework designed for infinite Soul exploration and expansion within this physical exquisitely diverse and varied setting allowing for full free will choice, within the agreed upon parameters of duality!
This is the 50th anniversary of Earth Day which was created as a 'teach in' by Senator Gaylord Nelson of Wisconsin who was disturbed that an issue as important as our environment was not addressed in politics or by the media after witnessing the ravages of a massive oil spill in Santa Barbara, California, in 1969. So he created the first Earth Day, on April 22, 1970.
Growing up in northern California, I was blessed with an amazing mother who not only taught us the beauty, magnificence and preciousness of all aspects of Nature and Wildlife, but acted and exemplified involvement in local and state government with petitions, marches, letters, and volunteering in elections and countless other ways. As a result of our efforts numerous laws and regulations were enacted by city, county and state many of which went on to the national level. There are innumerable ways we can all engage and participate in the changes we wish to see and be in our world.
Please click here https://www.earthday.org/  to see some of them and continue to seek ways in your immediate neighborhoods and communities to learn about decisions being made and voice your choices.
Yet the true way to make a difference is by transforming yourself removing the barriers to the expression of your authentic whole Self. While this is the great challenge, we have given ourselves an unheard of opportunity to slow down, stop and reflect, reevaluate, reassess and redesign our individual and collective world. This is an opportunity to deeply connect to ourself our loved ones and our planet, despite the 'distancing'. For it is truly making us FEEL what is important and significant to our survival. Not merely on a physical basis, but on an emotional and spiritual level. We have explored and tested and tried every angle and flavor of the form of duality that humans have studied for thousands of years. There is nowhere else to go with it except complete separation and destruction. And where's the growth in that? Besides that's been done before in this universe!
Now the game is to truly be in connection, communication, cooperation, collaboration and communion with others-including all other humans despite their difference even if that means their destructive selfish ways. For all serve a Divine purpose and what we cannot see, we cannot change and what we cannot feel does not compel us to be different. We must become aware and appreciative of EVERYTHING for whether animal, plant, water, mountain, cloud, insect, fish, reptile, tree, a virus or a gunman each have a very specific role in the evolutionary leap.
As a beautiful reminder, I have encouraged many with the words of the ad for this exceptional virtual experience reminds us 'When all is in chaos, come back to the Earth! Seven Worlds, One Planet https://www.youtube.com/watch?v=fyvW_iu06Rg
And please join me for a "Deep Earth Dive" Shamanic Journey. On Thursday April 23 at 8pm on Zoom. Email me  Andrea@HealersUniverse.com for the invite. We are in a catalytic moment in time for ourselves and our future. We will be traveling into the Foundational Matrix of Creation to 'set in' YOUR design for health on all levels, abundance in all ways and interconnectedness to all things!
More Creation and Dreaming into Reality Classes and courses so keep your eyes peeled.
And given the current financial challenges of so many, I am offering 75min sessions for a super reduced and/or sliding scale as we all are in need of alignment and stabilizing right now! Please don't hesitate to call no one will be turned away!