"It was but yesterday I thought myself a fragment quivering without rhythm in the sphere of life. Now I know that I am the sphere, and all life in rhythmic fragments moves within me."             
Kahlil Gibran 
Fri. Nov. 16, 2018 at 7pm "Be Grateful For You, To You, As you!"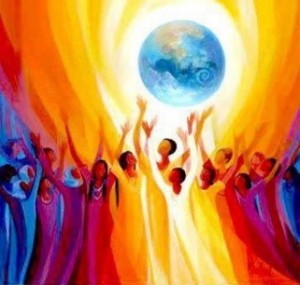 Sacred Sisterhood Gathering As the holidays approach it is more vital than ever to feel the magnificence of who you are and all you do. Come and allow yourself to be honored and uplifted with self care practices to take home and a profound rejuvenating meditation! Fri. Nov. 16th 7pm $25 advance/$35 at door Call Andrea Regal to register 856-904-5566 www.HealersUniverse.com
"A Healers Universe" specifically designed for Energy Healers, Massage Therapists, Counselors, Coaches, Medical Practitioners to learn how to work with your Energy Field and that of your clients to prevent physical, mental and emotional drain; to more effectively 'read', meet and treat energetic patterns; meditations, exercises and transmissions to expand and strengthen the 'container' of you allowing more of You to be 'channeled' through you personally and professionally. '
"Earth Stewards" for anyone who is called to cooperate and collaborate with the Earth for mutual benefit. You'll learn how to connect and communicate with the Earth finding out what she needs, the aspects of Nature involved or coming forth, what Energetic you are channeling at this moment or strengthen/widen your particular Energetic expertise; how to collaborate with other Stewards creating a synergy of the physical and the non physical for mutual benefit of those present and the Earth project; how to improve and amplify your intuitive skills/abilities.
"Wise Women Web" Focused for women who wish to reawaken and remember the Ancient Ways of working with Nature, Earth Cycles, Earth Magic and the tools and systems of healing characterized by and through the Feminine aspects and Energetics. Learning about Crystals, Herbs, Magnetisms, Amulets and more
All of the above will be meeting once a month on a mutually agreed upon day and time so please email me indicating which course or courses you have interest in and which day of the week you would prefer and the group vote will determine the final decision.
Also upcoming: One day workshops in 'Practical Magic'; 'Tending to Your Field' (how to care for your Human Energy Field); and 'Drawing your Dream to You'